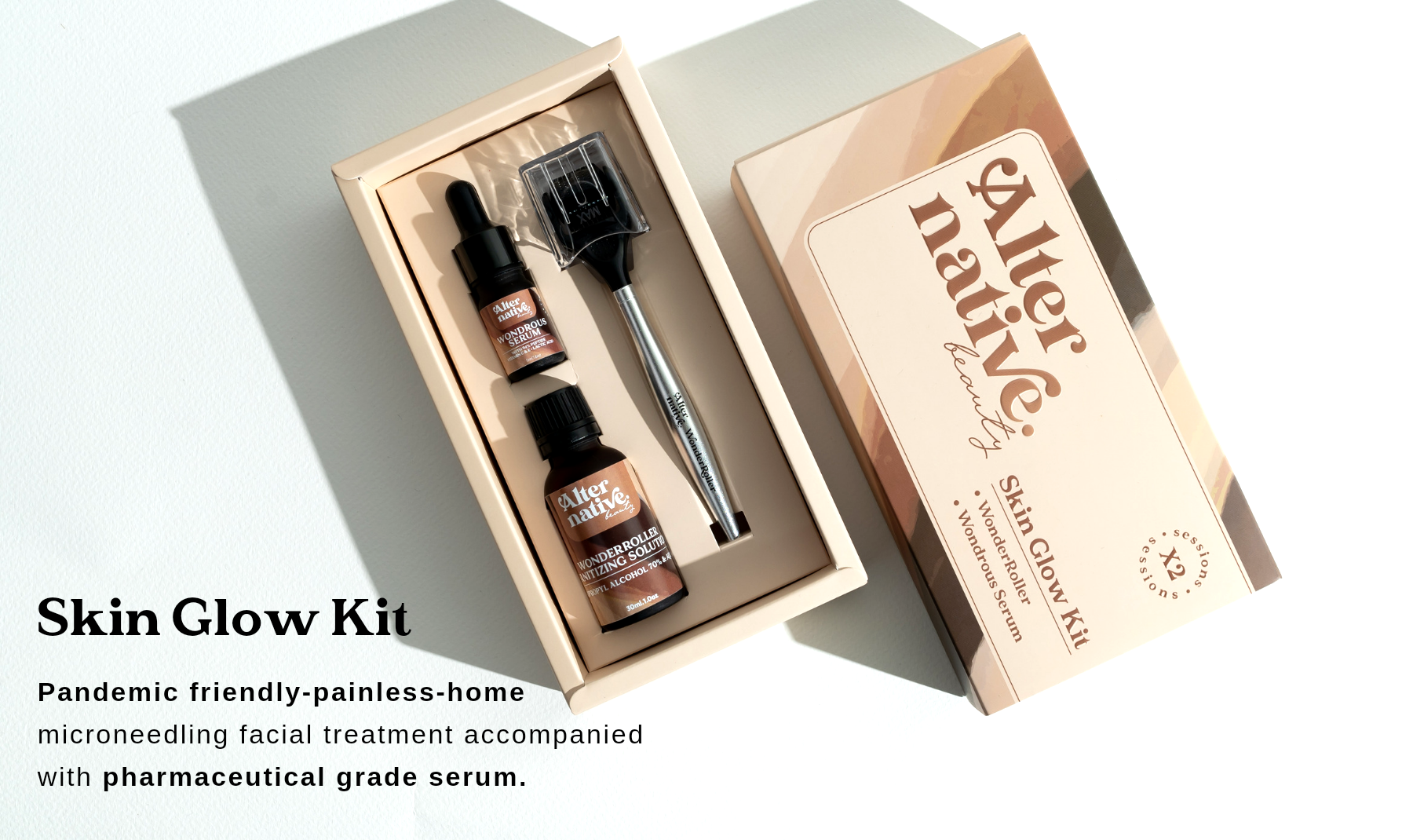 1. What is Skin Glow Kit?
Skin Glow Kit is a pandemic-friendly and painless home microneedling facial treatment accompanied with pharmaceutical grade serum containing high concentrations of peptides and other ingredients to enhance the skin's natural process of regeneration and repair. Skin Glow Kit is a combination of simple & easy skin care routine and treatment to effectively brighten skin and prevent aging before its time.
2. What is in the Skin Glow Kit set?
WonderRoller - A derma roller with 0.25 mm titanium microneedles to penetrate the skin and stimulate collagen growth and renewal of skin cells. When used with the Wondrous Serum, the micro channels enhances the effects of skincare.
Wondrous Serum - A potent serum made with 94% Oligopeptide, Vitamin C 2.5%, Vitamin E 2.5%, and Lactic Acid 1%. These ingredients are uniquely formulated and manufactured in US to reduce inflammation and promote wound healing - leading to brighter skin and faded pigmentation.
WonderRoller Sanitizing Solution - Contains 70% of isopropyl alcohol used to sanitized the WonderRoller before and after every Skin Glow Kit sessions.
3. How soon will I see results?
Onset of results will depend on skin issues you want to treat and how much the skin requires to regenerate. The process could take from several days to several weeks, but you often see visible changes after just one week. Renewal of the top layer of skin takes place approximately every 28 days. This means that after only a few treatment sessions, the changes can be significant.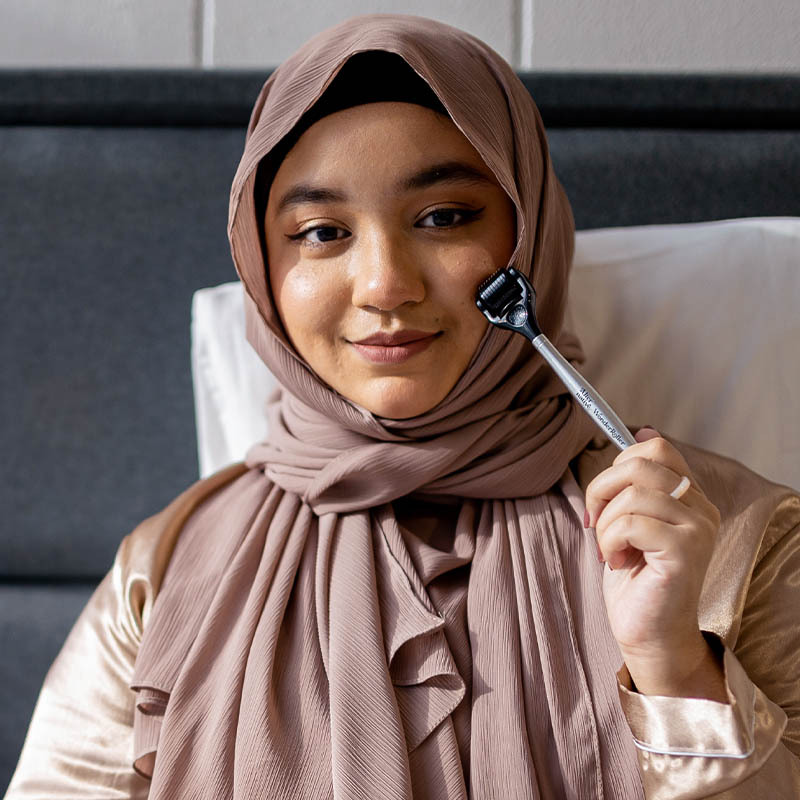 4. How often should I use the Skin Glow Kit?
We highly recommend users to use the Skin Glow Kit once every 2 weeks for optimum results. Should you be using the Skin Glow Kit for the improvement of indications like acne scarring and hyperpigmentation, frequency may be increased to once a week.
5. Can I use the Skin Glow Kit if I am pregnant?
While the ingredients in Skin Glow Kit will not affect a pregnancy, we do advise against using the Skin Glow Kit during the first three months of your pregnancy.
Subsequently, you may continue using the Skin Glow Kit during your second and third trimester. Do be aware of increased skin sensitivity during pregnancy due to the changes of hormone. Do observe your skin's reaction, and should you experience adverse reactions, stop using the Skin Glow Kit until after the pregnancy.
6. Can I use the Skin Glow Kit if I am breast-feeding?
Yes, the Skin Glow Kit is safe for use during breast-feeding.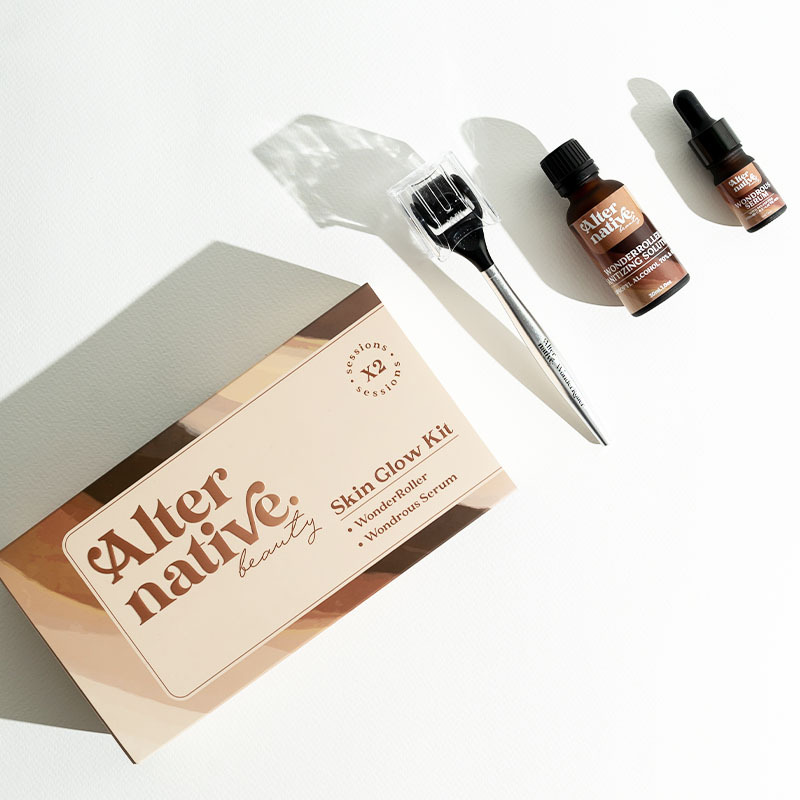 7. Is it common to experience skin redness during and after treatment?
Yes, it is common to experience and observe redness in the skin during and after rolling and this is something positive. To achieve better skin, micro needling creates micro injuries on the skin to enhance the absorption of active ingredients of the Wondrous Serum. When used occasionally, it will also enhance the effects of your routine skincare products.

It is also common for the skin to feel dry one day after rolling. Therefore, it is extra important to take care of your skin care routines and to sufficiently hydrate your skin with moisturisers.
8. How often should I change my WonderRoller?
We recommend that you replace your WonderRoller after about 3-4 uses. This is extremely important for hygienic reasons, but also for the needles to remain sharp for a correct and safe procedure.
9. When should I NOT use the WonderRoller?
You should NOT use the WonderRoller if your skin is currently irritated, infected, has active rosacea, acne breakout, psoriasis, recent tattoos, skin cancer, recently tanned skin, raised birthmarks, warts, sores, actinic keratoses or other skin changes that you are unsure of.

You should also NOT use the WonderRoller if you are on antibiotics, or using other medications that can make your skin thin and / or sensitive such as roaccutane or tetralycal.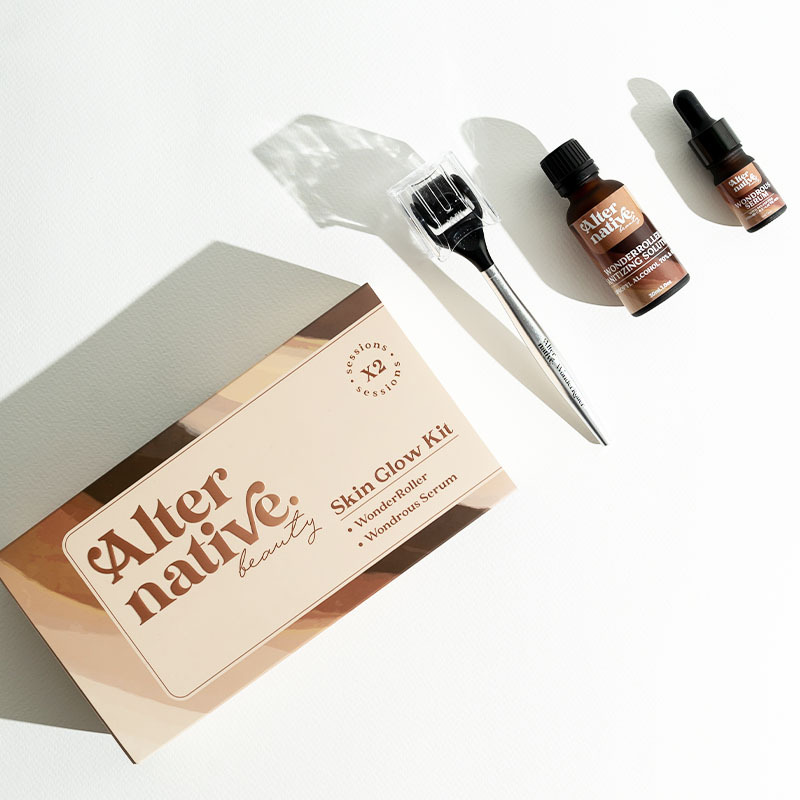 9. Can I can clean the WonderRoller with soap and water?
No, this cleaning method is not enough to ensure the WonderRoller is sanitised.

We recommend using the WonderRoller Sanitizing Solution that contains 70% isopropyl alcohol as a disinfectant that we have provided in the Skin Glow Kit.
10. Is it possible to replace the needle head on my WonderRoller?
Yes! When we created the Skin Glow Kit, sustainability has always been one of the most important values at the Alternative Beauty.
We have created the WonderRoller with a durable and lightweight aluminium handle and a completely replaceable needle head to significantly reduce waste. The WonderRoller Replacement Head will be available for purchase in our stores soon.